Every marketer wants to know what top brands are doing and how they're doing it. Be it social media marketing, email marketing, PPC, SEO, or any other medium to get traffic, digital marketers and entrepreneurs are always searching for improvement ideas.
So, if you want to know how successful brands are executing their email marketing campaigns, this list would give you some great ideas. 
1. Using Welcome Emails for Strong Relationships and Better Deliverability
The average open-rate of effective Welcome Emails is above 80%, and their click-through rate is over 25%. 
Targeted welcome emails help you with the cleaning tasks of your list. If it's sent to the wrong person, the welcome email gets a hard bounce. 
Welcome emails improve your deliverability, too. They're kind of assurance to serious subscribers that their subscription has been received and they should expect relevant stuff in their inbox. 
All in all, good welcome emails connect with the subscribers and positively affect your click-through rate.  
2. Sending Timely Emails To Increase Conversion Rate
Email automation software, like GetResponse or Infusionsoft, offers timely and relevant email messages to targeted segments of your audience. A timely message sends an alert to the recipient that he's been given individual attention, so they're likely to convert. 
3. Setting The Frequency To Grow Engaged and Healthy Email List
Mailing frequency depends upon the niche you're in, but the industry's best practice is to send a newsletter to customers once a week, every week. Almost 20% of the marketers send two newsletters a week and over 9% send three per week. 
It's not only about improving your ROI, but there are also other factors as well, such as:
Conversion
Opportunities to sell
Getting higher click-throughs
The fear of losing customers stimulates retailers to send more emails per week which may lead to:
Decreased engagement
Reduced visibility
Increasing complaints
Increased opt-outs
4. Using Confirmed Opt-Ins to Build a Better List
Marketers know that the success of email marketing is based on quality, not quantity. Still, they're scared to use confirmed opt-ins as they're scared of email-list trimming.
Companies that use confirmed opt-in are likely to outperform those who don't. 
Commenting on the use of double opt-ins by different industries, Mateusz Ruzik, Product Manager GetResponse says, 
"Lean lists mean better results, and email deliverability is so much better when you have verified your list with double opt-in. It's also a good security measure, to prevent anyone from injecting spam traps or sending other harmful emails to your list."
5. Monitoring Deliverability and Avoiding the Spam Folder
It is crucial to ensure your emails make it to the inbox, not the spam folder, of your subscribers, otherwise, no matter how interesting they are, they're worthless. 
Handling email deliverability isn't just the service provider's responsibility, you also have a part to play in it. Deliverability also depends upon:
How you built your email list
Content of the email
How often you send them
6. Using a Memorable Sender Name
A unique sender name works like a brand name, and paying attention to it is obviously one of the best practices. 
Sender name is most often the first thing people see while scrolling down the inbox, and that's even truer in case they're using smartphones. If they see something worth paying attention to, they'll move forward to reading the subject line, and so on. 
Here are some sender name formats (italicized) most brands use: 
ABC LLC.
Matt Harbor from ABC LLC.
Matt Harbor @ ABC LLC.
ABC LLC. Customer Support 
ABC LLC. Newsletter
ABC LLC. Digest
7. Being Authentic and Ditching the noreply@ Address
After making all the efforts to gain their trust and get them to fill out the opt-in form, you come up with an email that creates a "no-reply" boundary between you and your customer. 
For example, this email would have generated millions of queries and feedback otherwise…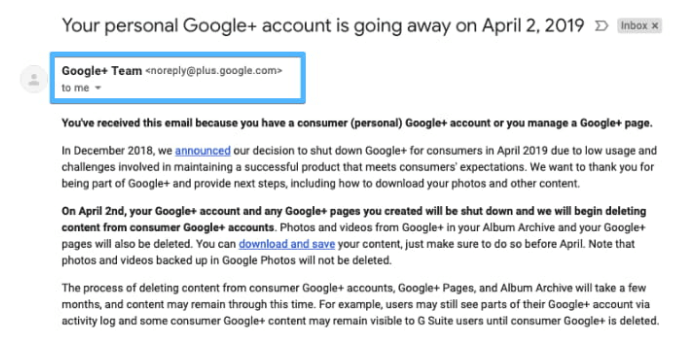 You could have missed your best brand ambassador by sending auto-reply and out of office emails.
How can they provide their valuable opinions or feedback if they can't even reply to your emails? 
You'll be clearly missing an opportunity to connect with your audience. 
So, ditch the noreply@ address and be available to them for improved customer satisfaction.
8. Crafting and Testing Your Email Subject Lines for Higher Opens
Almost 50% of email subscribers read the subject line before they decide to open the email. Although there are things like Sender name, Pre-header, and perhaps filters and labels, the subject line still holds strong ground in terms of getting the recipient to open emails. 
Give proper time to craft your subject lines
A/B test all of them in a separate timeframe
Add personalization – you can use emojis, too. 
Utilize your wealth of vocabulary and grammar to find attention-grabbing questions, inspiring power words and relevant idioms to move the needle.
Don't forget who your recipients are (based on their demographics, devices, interests, behaviors) 
9. Using Lead Magnets to Grow Email List Faster
One of the best practice to build a targeted email list is to use lead magnets, such as free E-books, market reports, calendar, comprehensive guide, etc. Here is a list of lead magnets you should test and try, in order to collect more subscribers' addresses.
The customer feels less hesitant to subscribe for your emails
Even if the downloadable E-Book is least related to your content, it helps in projecting you as an industry authority. 
10. Creating Engaging Content for Improved Click-Through Rate
Like the content, the practice is also 'Evergreen'. Be it your email, landing page, your webpage, product description, reviews, or anything else, content is everywhere. And everywhere, its quality and strength stimulate action.
Email content can be text-based, image-based, video-based, or a combination of any two types, or all the types (you can mix it any way you want). 
Try videos, gifs, interactive content, emojis in your email campaign to make it click-worthy. You can see how Email Monks showcase different types of content in their email. 
11. Testing and Previewing Emails
We mentioned previously how important it is to try and test experimental email campaigns and analyze their performance. Instead of trial and error experiments in live mode, you can learn the same in test mode, with the help of a/b testing tools, like GetResponse, AWeber, and Campaign Monitor, etc. 
12. Using Top-rated Email Marketing Tool to Avoid Junk Folder
Customers don't have enough time to see an email that can't fit properly on their mobile screens. Even for desktop users, they would simply throw your email in junk if it doesn't support their email client – like Google, Yahoo, Hotmail, or other popular clients. 
Your email campaign should be optimized for popular browsers as well as mobiles. For this purpose, you're going to need a professional tool that can fix these issues and save an ample amount of time. 
Above mentioned tools are top modern-day email marketing solutions to help you in all aspects of running a successful email campaign. 
Finally: Create a Marketing Funnel 
Email marketing is a continuous process. The best thing is, it can be integrated with other marketing channels. The only problem is, how you are going to manage all that stuff. 
The process of creating landing pages, building an email list, getting the audience, and sell your products/services goes on and on. And you can easily lose your path. 
Therefore, you need a proper marketing funnel to 
Synchronize your marketing channels, 
Keep track of your business goals, and 
Continue improving your conversion rate.