Don't you want to get to that magical 4400% ROI through your email campaign?
Then, fueling your brain with inspirational examples is absolutely vital. 
Isn't it tough to set the email template?
Probably, Yes!
It's not easy to motivate your subscribers to open all the email notifications and stick with you till the final line of your message. By the time your readers get to the bottom, they should be overwhelmed with your message and go on to hit the CTA right at the bottom. 
But, for some brands, it's like a piece of cake.
Well, that's what these 5 most successful emails taught us.
Go on to read about each of them as we analyzed what makes them so unique and irresistible.
1. Spark
Spark is one of the top email clients for Android, iPhone, Mac, and iPod. And they know how to send an email that sets them apart as experts in the field. 
Take a look at their perception-changing welcome-email that would grab your attention as soon as you open it.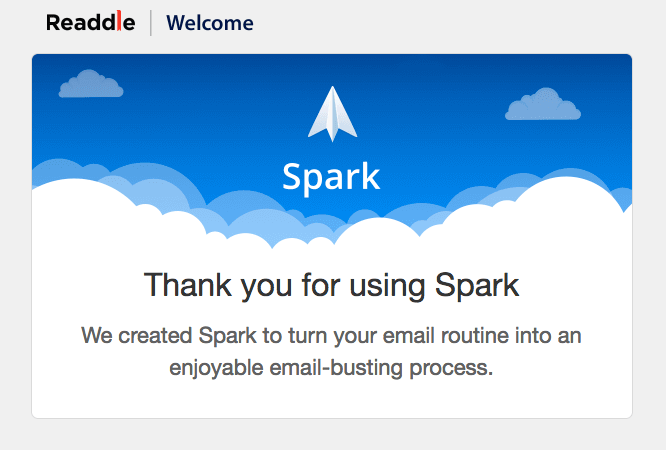 To start with, the image at the top plays with the readers' philosophy of emails.  
Which image or object comes to your mind when you think about the word "Email"? An envelope or a letter. 
Rightly so, because all emails have something hidden and at times we get so much hesitated to open them that we throw them in the junk folder. Isn't it true? 
But, what's this paper plane is doing? Are you kidding!
Hang on! 
Just below the funny paper plane, there's a message claiming that your boring email routine can turn into a fun activity. 
Sounds a bit different! 
You'd say, "Let's find out what it is"… and you're hooked. 
And definitely, you'd want to click on the tactfully placed video just below the message. Or perhaps, an infographic containing actionable text would be more helpful to you. Choose an option.
By the time you reach the bottom, you'll be more than convinced Spark is the solution for all your email-related problems. 
Right at the bottom a link to their Twitter account is yelling, "Go on and listen to what influencers and trendsetters have to say about Spark"
In short, this welcome email is no short of excitement and thrill subscribers would feel, and they'll be more than satisfied to know they've rightly subscribed for Spark.  
2. Uber
Uber is a popular brand worldwide because of fast and timely service. They've maintained this professionalism in their emails as well. Uber sends different promotions from time to time. Often showcasing 2-3 sentences with major information along with happy customer faces, Uber's emails are worth including in our list of Top 5 Successful Emails for All Businesses. 
Here's one of the examples:
Uber promises to deliver consistent emails that are simple yet tasteful. As you can see the content is pretty straightforward and to-the-point, pretty quick in delivering relevant information. 
More often, the service is used by people on-the-go so you don't expect the content to beat about the bush. For example, take a look at the CTA, that's simple, clear and perfect for customers who're likely to skim messages because of less time. 
At the same time, a helpful link is there for those who want to get more information. One of the great features of Uber's email campaign is, it sends a map of your rides with details of your journey.
3. Flock
Before we comment on their email, answer this!
What's the best time for checking email updates on your phone? 
After you wake up
When you're on your way to work
In the lunchtime
After getting back from work
Before sleep
Tech Times says, people check their smartphones before getting out of their beds and most of them check their smartphones for email updates. 
Based on these stats, if we see what Flock's brought forward, there are no surprises. 

This infographic works like the first good news as you wake up. 
Pictorials are well-balanced with the text.
Links are present at appropriate places.
Simple and easy-to-read text goes hand in hand with soft theme. 
Integration options are available.
There are options to connect via social channels like YouTube, Twitter, Facebook, and Pinterest.
At the bottom, sits a clear CTA with a contrasting background color.  
Further options (especially the 'Unsubscribe' option) are also available for subscribers. 
4. BuzzFeed
Newsletters are BuzzFeed's top traffic sources because they're the pioneers of engaging content for newsletters. 
Here's an example:
Here are some noteworthy features:
BuzzFeed is renowned for coming up with irresistible subject-lines that push the readers to open the newsletter immediately. As you open it, you get to see a large and attractive image inviting you to find out what's cooking on the website. For housewives, this email would be no less than a treasure of information.  
This is just one example of their creativity. You can subscribe for BuzzFeed and get the newsletter tailored to your specific requirements, just like the one below. 
Want to get the best of the newsletters? Subscribe for This Week In Cats by BuzzFeed.  
It's being delivered every Friday and showcases some cute little stories related to cats. Most often, you get links and awesome pictures of cats. More interestingly, you can ask a question to the Dumb Cat and get her advice in the next email. 
All in all, it's a great way to engage subscribers.
5. Litmus
This email message from Litmus shows how you can share something really important with your subscribers, and ask them to take the action you desired. 
First of all, the Giff at the top makes this email message worth enjoying. Normally, the word 'Report' brings about urgency, seriousness, and boredom. The Giff, however, acts as a catalyst to keep you relaxed. 
The Headline is clear and to-the-point and it targets entrepreneurs, email marketers, digital marketing experts, influencers and bloggers. 
The content below the heading highlights the importance of the email report. 
There will be loads of information regarding email clients, email enhancements, and improvements
It would help you create a successful email program.
A nice-looking CTA at the end closes the email. 
Finally – What's Your Take?
In this post, we've shared email examples of different niches to help you pick the best that meets your requirements. 
There are some basics each of the Top 5 Emails has in common
Attention-grabbing subject lines
Clear headings
Direct and to-the-point text
A compelling story to tell, either through images, videos, infographics or text.
Clear and actionable CTAs
Use of the content is different depending upon the service each of them is selling. 
When it comes to Welcome Emails, you can see how to entice your readers with multiple content options.
You can see how to deliver quick and timely information to the readers on the move. 
We have shown what sort of emails are more effective earlier in the day, and how you can make your subscribers happy with cute and soft email messages. 
In a nutshell, there is a large space for you to try out different templates, messages, and content-types. But what's more important here is to be consistent with your effort.