Are you amateurs in online marketing, despite being a pro in what you do? Then you might be missing a lot of opportunities to grow your clientele.
Statistics say mobile shopping is on the rise throughout the world. And if you still believe digital marketing is something you don't have time for, or you don't do it because it's hard, you're simply letting your competitors snatch your customers.
There are some wrong perceptions related to small businesses;
Since you're working on a small scale, there's no need to attract a large number of customers. You're actually closing doors to expansion.
You're physically there and customers will come looking for you. There's always a fear that your competitors might be stealing them online.
Digital marketing is hard to carry on. With hundreds of online tools available, you can automate quite a few tasks, and pay attention to the core of the business.
And if you're already convinced how digital marketing can pay off, optimizing your website should be the first step to get started.
So, how should small businesses be doing search engine optimization? This post offers some actionable advice.
Let's dive in!
SEO-Friendly Website Structure
Needless to say, your website should be SEO-friendly.
So, we start with the fundamentals;
Your website domain and sub-domains should make sense, rather than carrying keywords.
Always choose the hosting platforms that give no excuses for speed.
Choose the best content management system that offers flexibility in terms of integrations and lets you optimize the website elements according to Google's criteria. WordPress is a great CMS for small business websites.
Moving to crawlability and accessibility, there are two things to consider;
Make sure your website has easy-to-index content. That simply means that the images and videos (and the content other than text) should be well described at the back-end. It helps search engines to understand the content and index it for SERPs.
The entire website should offer smooth navigation. Webpages must feature internal links. The XML sitemap should be easy-to-understand. All of these elements make your website crawl-able.
No Broken Links and Broken Pages
Broken links give an impression that the site's not been updated regularly. So, you need to find 404 pages by running a website audit. You can use Ahref's website audit tool that will give information about all non-html pages in one go.
Broken links are created while shifting the old URL of the website to new. In the process, some pages might be deleted or left. Sometimes, you switch a webpage to non-html page on purpose.
After a website audit, when you get a clear idea about the number of broken links, you can take these steps:
Either redirect the page to the right (new) location/place or
Reinstate the dead page.
When you reinstate a page, you also need to reinstate all the internal links. Check all the internal links to and from the page and make sure there should be no broken links.
Meta Title and description
The meta description appears on the Google search results, like this:
In fact, every webpage has its meta-description, so it must be unique; with unique meta-title and descriptions. Make sure your meta description sends all necessary information before it goes beyond Google's specified limits.
You can use SERPsim to check your webpages for meta title, URL, and description.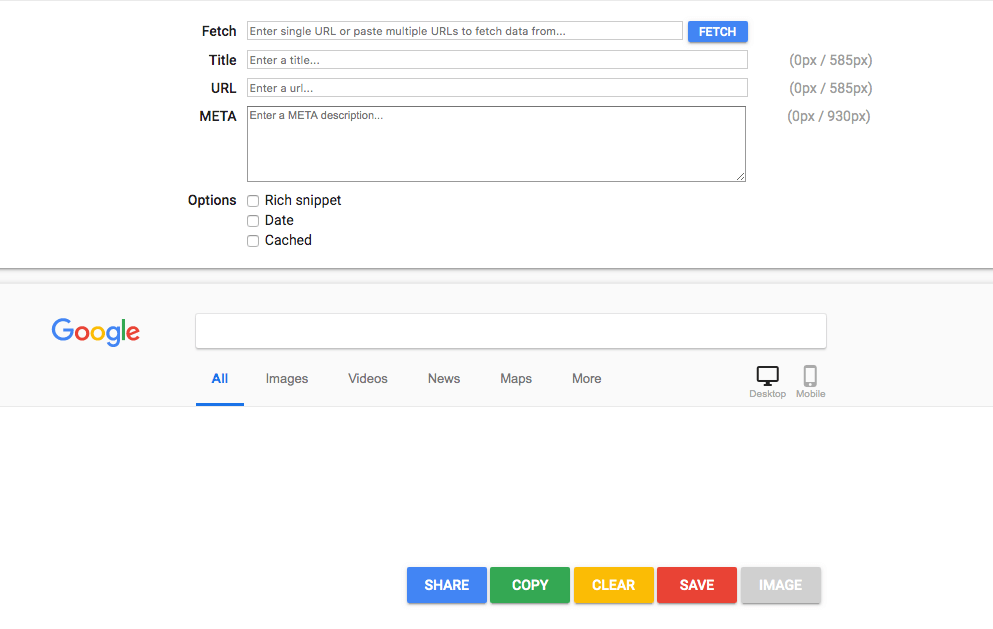 If any file is non-existent, add it. If the description is too long, you can make it concise. You can make your description enticing for the readers, but don't add target keyword, unless it fits there naturally.
Webpage Copy
Follow these SEO rules to make your webpage copies optimized for search engines.
Every webpage has at least 500 words
There should be one H1 tag on every page that will serve as a heading.
If the content is long, it must be broken into subheadings (H2 – H6) to maintain the proper hierarchy.
Avoid using keywords unnecessarily. All keywords, including the target keyword, must fit the page text as naturally as possible.
Check spelling and grammar and make sure all sentences are easy-to-understand. Double-meaning phrases and sentences should be avoided.
Not to mention, your copies need to be written professionally. The content must be informative and give opportunities to the readers to learn more (must have links to authority sites or other relevant webpages within the website)
Get citations
Don't forget to list your business in relevant online pages. Although citation is an Off-page SEO, Google considers it quite important for the online presence of the business:
According to Google,
"Citations are online mentions of your business, which usually display your business name, address, and phone number—collectively known as NAP (Name, Address, Phone)."
Citation is the top local ranking factor as per Google
You can rank well in local search engines by registering your website on local listings
And the best place to start registering your business is Google My Business.
With Google Map Pack you will have a higher chance of beating the best pages on your way to the top of Google SERPs. Follow these steps:
Register your company with Google My Business
Optimize Google My Business profile
Make your website optimized for local as well as mobile searches
Get Backlinks
We call it the "Backlinko Phenomenon". Link building can uplift you from zero and put you right at the top with industry leaders. Links to authority sites are Google's weakness, along with Content and its favorite algorithm, RankBrain.
That means you're not allowed to stuff your webpages with unnecessary links. Links must be placed tactfully where needed. And they must lead the reader to pages or sites with high authority.
You can ask your suppliers and related businesses to provide you with helpful links that will help your readers and customers to find quick resolutions to their queries. At the same time, it's not about selling a brand or tool, it's about helping people find relevant information.
You can find lots of link building strategies coming straight from the horse's mouth.
SEO Tools
Hundreds of tools are there to enhance your website's SEO. Here are some of the top tools to help you out:
Screaming Frog – SEO Spider; for checking broken links, meta-descriptions, URLs, page titles, etc.
Google Search Console; for diagnostic information necessary for website improvement
NameCheap; a popular domain registrar that offers unique yet optimized domain-names; plus you can use its hosting features, too.
BuilderAll; an all-in-one tool to optimize your website structure or creating it right from the scratch
Ahrefs and Majestic; helpful tools that send in-depth information on your competitor's link building.
Conclusion
We have done our part. Now, it's your turn to transform your website into the revenue-generating source – something that won't stop customer feeds and their orders.
If you have SEO-related questions in your mind, you can write them down in the comments section below, and we'll be happy to answer them.