Are you constantly looking for things that give you a bang for your buck? The best case is always that there is no buck involved at all. Yes, you got that right.
There are now free keyword research tools that are just as good, maybe even better than their paid variants.
Researching keywords is a necessary part of an SEO optimizer's workflow. The fate of how an article shows up on a browser when it is searched for depends on this. This consumes a lot of their time, as well as money.
The former is something that cannot be curbed. But for the latter, instead of pouring hundreds of dollars, why not save the money for something else?
We are going to help you with this saving. Mentioned below are some of the best free tools you can use for keyword research.
1. Rank Tracker
If you are looking for keyword variations and have them ranked according to their profitability, Rank Tracker is your best bet.
Some of the best keywords are the least obvious ones. To dig out the best SEO gems, it is important to look for all possible keywords variations from numerous sources. Rank Tracker offers a variety of features for this purpose including:
Google Yahoo, Amazon and Bing suggestions
Search Console and Keyword Planner integration
Long-tail keywords
Popular keyword permutations and misspellings
Less Effort, More Traffic: All these tools can help you get a diverse keyword list. You can analyze the traffic potential of your keywords as well as reverse engineer the strategy of your competition through SEO competitor analysis.
While Rank Tracker does have a few premium features, the free version is more than enough for your keywords research needs.
2. Google Ads Keyword Planner
Google Keyword Planner is the perfect choice for people starting a new website- for new users and seasoned ones alike.
The strength of this tool is in the fact that it was designed by Google. Meaning, information is pulled directly from Google. And since it is the most commonly used search engine, Keyword Planner is highly likely to provide the most relevant keywords. Thereby, allowing you to secure the highest possible reach.
Using Google Ads Keyword Planner is simple. You start by putting in your keywords. This brings up personalized options that guide you. It is all simple and easy to understand. The tool also brings up a set of suggestions you could apply.
However, the success rate of these keywords is variable. You have to consider all the keywords. You might end up finding something that makes a huge difference.
Google Ads Keyword Planner also suggests:
Competition
Monthly Search Index
Suggested Bid
This tool is free. However, if you're not putting money in Google Ads campaigns, you will only get the searches each keyword gets in ranges instead of the precise value. You might have to look elsewhere if this is a requirement for you.
3. Google Correlate
As we have said before, nothing is better than getting suggestions directly from the fountainhead.
People often overlook Google Trends and its ability to generate an ample list of keywords. 
It does this by allowing you to find related keywords or phrases. This can be particularly helpful for finding longtail keywords.
For instance, if you search for "dinner recipes" on Google, you will be shown search recommendations related to that phrase. So, while your main keywords may be "dinner recipes," you can also utilize many others to build your content calendar.
So if you are struggling to find keywords, Google Correlate can be your savior. All you need to do is write your main keyword and the tool will handle the rest.
4. Keywords Everywhere
Keywords Everywhere is an add-on for web browsers. It allows keyword analysis while browsing Google, Youtube, Bing, and other sites.
When you type into a search box, it adds search volumes to all the autocomplete recommendations. An embedded box with new keywords is also shown on the right side of Search Engine Result Pages.
5. AdWord & SEO Keyword Permutation Generator
When starting a website, the most common problem people face is the lack of usable keywords. This may not seem like as big of an issue in the beginning. But as your site grows, you will start noticing the lack of diversity in your keywords. Fortunately, AdWord can rectify this problem.
This tool allows you to go through a variety of keywords. You may use these at your disposal to fit your particular marketing strategies. It provides three boxes. You put your keywords in them and hit generate permutations. This allows the tool to generate the highest possible number of relevant keywords.
The number varies depending on how many keywords you put in initially. While the list is diverse, sometimes you may get irrelevant results. You will be required patiently to go through all the keywords provided and choose the ones that make sense and best fit your demands.
6. Wordtracker Scout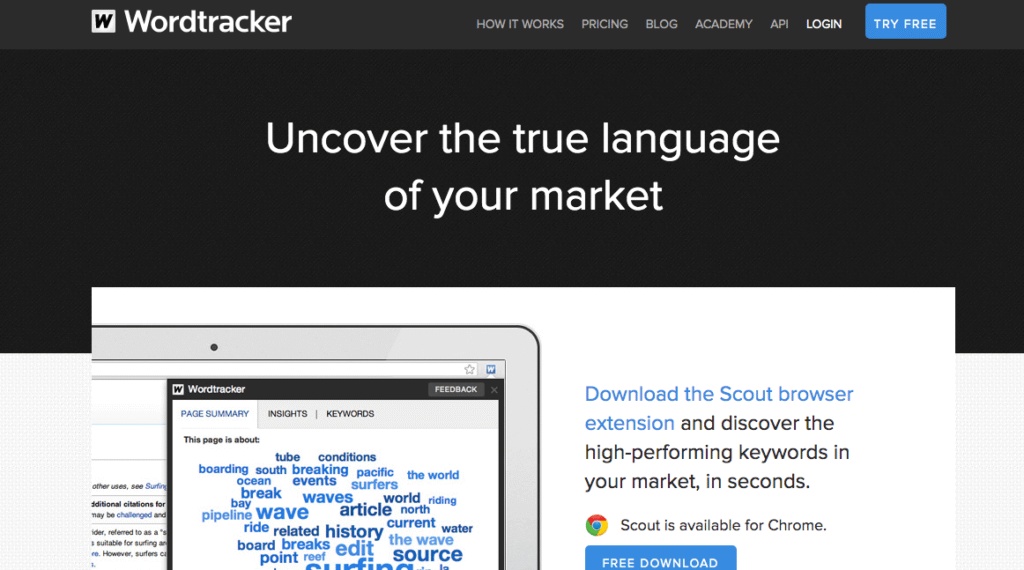 There is no better place to get keyword data than from your competitors. However, going through blog posts on your competitor's site to manually dig out keywords can be a time-consuming task. You may also end up missing certain keywords.
This is where Wordtracker Scout comes in. It is a Chrome browser add-on. Once you install it, all you need to do is visit your competitor's site, select the content, and press the W key. It will provide you with a thorough keyword analysis of that page.
Conclusion
When it comes to SEO, nothing holds as much importance as keyword research.
Choosing the right keywords is the foundation of a successful SEO strategy regardless of your personal goals and niche. Therefore it is important to be equipped with several keyword research tools to help you find the most effective keywords.
This will improve your search engine ranking, thereby guiding your SEO campaign in the right direction.