In this article, we are going to discuss the 7 Must-Have Tools For Bloggers
Blogging trends haven't changed much. In fact, blog readers have grown, and they're supposed to grow more in the future. Same is true for sharing blog posts on social media. But blog readers don't just come, read and share your content. 
As a blogger, you need to be aware of these things:
Your content needs to be clear and readable.
It must have the ability to be fetched by search engines when users type the relevant keywords.
The posts should have visual appeal, as well as content to keep readers on the page.
In short, the blog post should reflect what the blog promises.
To answer, how you can achieve all of the above-mentioned qualities, you need some tools. So, here is a short list of Must-have tools for bloggers.
1. Grammarly
Topping our list of 7 Must-Have Tools For Bloggers is Grammarly.
Grammarly is the best available resource every blogger, whether beginner or professional, should use. It ensures proper spelling and grammar in your posts. It tells you where you're making grammatical mistakes and give you suggestions to correct them.
To get the most of Grammarly, install Free Grammarly extension on your web browser. Grammarly is compatible with most Google platforms, and most importantly it works with WordPress. You can either type directly into your WordPress interface and it'll highlight mistakes (underline them). It even works on phrases.
Alternatively, if you use Grammarly app for typing, the correction process will be quite fast and you don't have to stop and correct the mistake manually.
2. Yoast SEO
Number 2 on our list of 7 Must-Have Tools For Bloggers is Yoast SEO.
SEO (Search Engine Optimization) is one of the supporting pillars of website management and blogging. And to cover all the basics of SEO on your page, you're going to need a blogging SEO tool like Yoast SEO. It makes sure all of your posts have been optimized.
The plugin is absolutely simple-to-use. After writing a post or creating a page, all you need is follow their instructions, and get highly-optimized page in the end.
To make the most of Yoast SEO plugin, you don't need to do anything technical. Just write your posts normally. After completing your post, scroll down to see the analysis done by Yoast. You can see some of your text in red or orange. Fix them until you see "Good" for SEO or a "Y" (in green) next to the publish button.
Remember: Yoast gives you an idea of what ought to be done for better optimization. There's no restriction that green lights should be maintained all across the pages. Sometimes, you don't want to add keywords on your page, because you think it will sound robotic. So, that's perfectly fine. Yoast just gives you a guideline, not a law.
With Yoast, you can also change social sharing info of any post or page. You can create an attractive-looking copy with social-friendly image to be displayed in place of the default image and meta-description.
3. Sumo
Formerly known as SumoMe, Sumo is one great blogging tool available on the internet. With Sumo, you can easily add social buttons, different analytics, and email capture forms to your blog. Apart from the free Sumo version, there's always a paid version that offers advanced features like intricate templates and A/B split testing options.
If you're a new blogger, we recommend that you should start with the free version because it allows great power and versatility. With Sumo's free version, you can increase your email list by 1000% overnight, like Nate Desmond, or collect over 45000 emails like Robbie Richards.
Installing the Sumo app to your site is very simple, but don't think that it'll get installed and start collecting emails right from the word go. Follow these tips to get the best out of your Sumo app:
4. Ahrefs
When it comes to SEO, keyword research is something you should invest a lot of time and effort. You would ideally look for keywords that can be ranked easily and have the highest traffic. Ahref makes sure you get both.
The tool isn't free to start with. Neither is it cheap. But you'll get free-trial for two weeks. Ahref's alternatives include SEMrush and Moz. They also give free trials before actual purchase (Hopefully, you got the idea).
Whichever tool you choose, we recommend that you should have one if you want to rank your website on Google. Without these handy tools, you're left with Google Keyword Planner, which doesn't help you find profitable and high-scoring keywords.
To get the most of Ahref you need to use it to its full potential. It's not just about keyword research. You can use it for content exploring, backlink tracking, and competitor analysis.
There are plenty of things about it that cannot be summed up in just a few lines. So, go through this Ahref guide. It will help you learn a great deal about how to explore this tool and use it to your best advantage.
5. Canva
Canva is undoubtedly the best platform for creating your own images. It offers design templates of different dimensions based on the platform you want it for (Facebook, Instagram, Blogposts, etc.). You can create logos, graphs, images, comparisons, infographics, and the likes using Canva.
Canva is free, but the content it offers can be paid, depending upon your choice. After creating your image, just download the file in the desired format. Canva is best suited for creating custom banners for posts.
6. Design Hill
At number 6 on our list of 7 Must-Have Tools For Bloggers is Design Hill.
If you want to find and create your own images, Design Hill is one helpful tool for this purpose. It's actually a marketplace for graphic designers where you can hold a contest and have any kind of images. If you want to create your business logo, Hold a small contest and choose the best logo design.
There is a free version but you need to have some skills to operate it. Plus, the website isn't really as intuitive as you think. The problem is, you need to go through the instructions first, to understand how it really works. But not all of us have that much time. So, here are a few tips:
Provide complete detail of the design you want, and upload a sufficient number of similar designs so that the designers can come on the same page.
If the design you like needs some improvements, give your feedback to the designer and they'll make the necessary changes.
Be straightforward and eliminate designs that you don't like. If the designers are not working for you, eliminate them too.
Rate some designs so that freelancers out there can understand what sort of work you want.
Another similar platform 99designs is a little more expensive but it offers a comparatively bigger community of designers who have substantial experience of different niches.
7. Revive Old Post
With Revive Old Post you can easily and automatically share your posts. The tool can be integrated with the WordPress site. Then it randomly chooses a post from the past to be shared. You need to determine the intervals for the posts to be shared.
The tool is not free, but it's a worthwhile tool when you consider its ability to pick old posts from the archives and post on social media. So, more or less, it's a time-saving tool that keeps your content alive on social media.
Did I say "7 Must-Have tools"?
Yeah, I know, but this one worth to be mentioned as an alternative to Canvas. I started to use it lately and really liked it.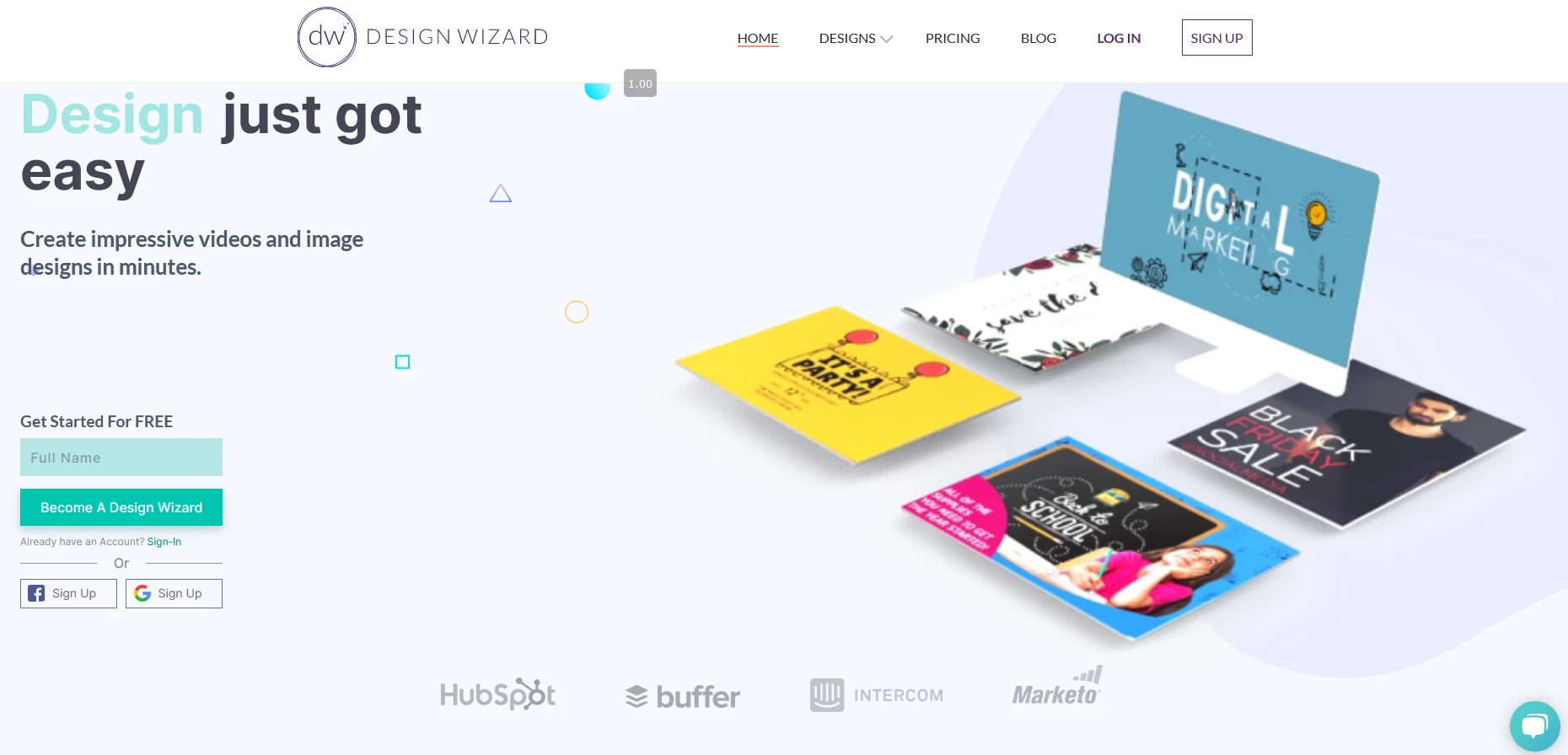 Design Wizard is excellent graphic design software that allows you to edit high-quality images and videos in seconds. There are over 1 million images in the library and tens of thousands of high-quality video templates. There are also excellent integrations with Hubspot, Marketo, Buffer, and Intercom.
Perfect for social media marketers, party planners, and business owners, Design Wizard aims to inspire with its high-quality visuals.
It has a free plan, with paid plans starting at $9.99 a month. Standout features of the tool include a custom color palette, free font library and resize feature.
Conclusion
There are plenty of other tools on the web to make blogging easy, but these 7 Must-Have Tools For Bloggers are highly recommended for starters and pros alike. Once you get used to these tools, you can easily add more tools in your list for successful blogging.